'
Free samples are available from many different companies. There is only one problem. When something seems too good to be true, it's because it is. With all the scams that are flying around the internet, finding the right opportunities can be difficult. Just because it can be hard to find the valid offers doesn't mean you should give up on finding free samples. There are a few things you should look for and avoid when accepting free samples.
Never Pay
It is not a free sample if you are paying a processing fee or any other type of payment. They will get your card information, and in most cases, you will never receive the item. Another way for scammers to try and get your financial information is by offering a free trial. Those free trials can be the hardest things to get canceled. In both ways, they now have your bank information and can do more damage. Never pay to get free samples.
Reliable Websites
Always check the website that you are on. If it isn't a link or page, you recognize it is not a reputable site. Kraft wouldn't have a secondary website sending out its freebies. Check to see that the brand or item you are receiving is the same as the website that you are on. Smaller companies will have freebies that cost less, while larger companies will have those that cost more. If you are seeing a small business offering a large sample, you may want to double-check the source.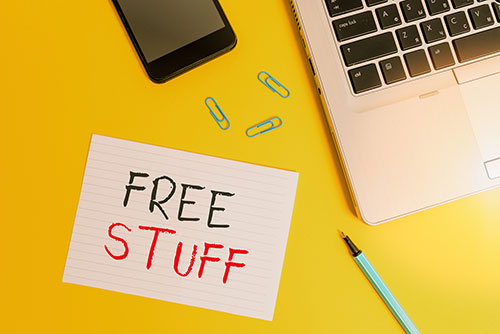 Focus on Products You Love
Chasing all freebies that come into your email is not be the best use of time. Wasting time will not be the only thing you could lose. With a larger volume, you are bound to open up more scams. Only open offers or search for samples of things that you like. Don't take unnecessary risks with your personal information. It would be terrible to get scammed and have your identity stolen.
Give Little Personal Information
Along the same lines as not giving out the detail of your credit cards, only give limited personal information. Scams will ask you a lot of personal information. They are trying to find out as much about you as they can. Beware of giving more than your name and address. A company offering a free sample will never ask you for social security or bank information. Sites asking for anything along those lines is a scam and should be avoided.
Trust Yourself
Have you ever read something, and nothing seems to be wrong with it except for a nagging feeling? Trust your instincts. Scammers are getting more creative. We have to be attentive to what we click on and actively search to make sure it is safe. Nagging feelings are a way of letting us know that things could be unsafe. It is better to be safe than sorry.
Avoid the scammers and start receiving your free samples.